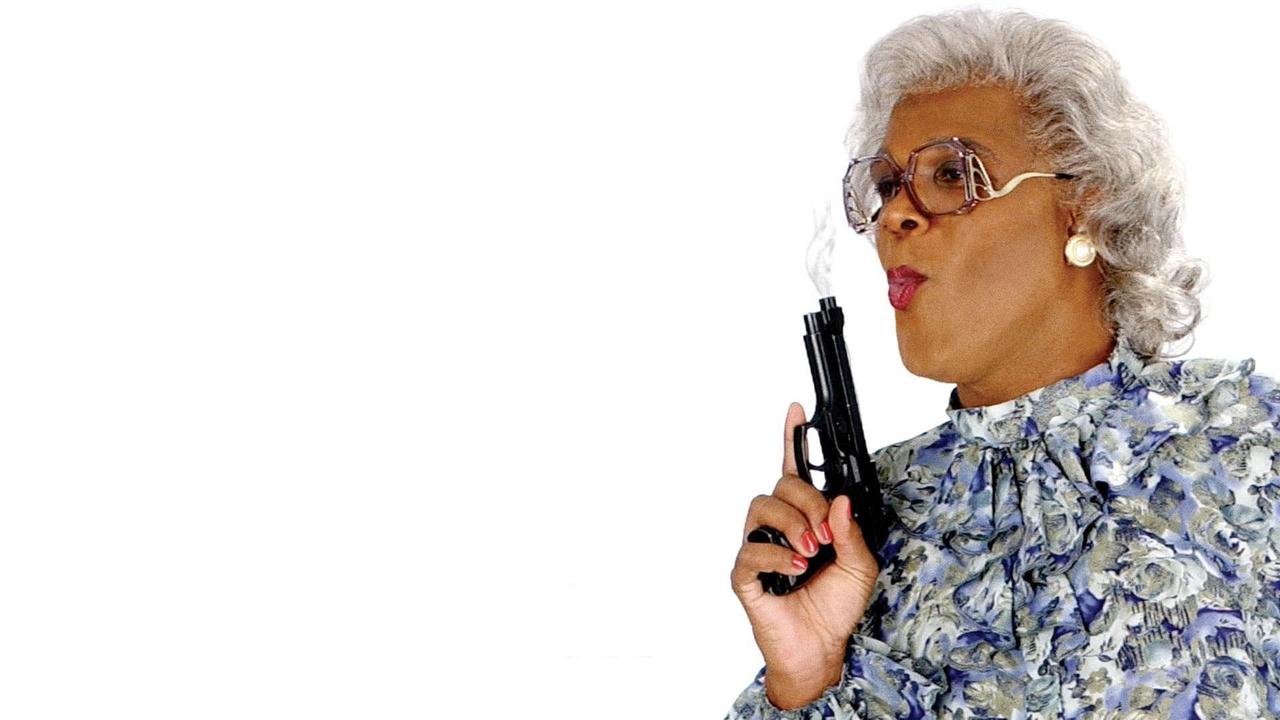 Madea - Collection Online Streaming Guide
Mabel "Madea" Simmons is a character created and portrayed by Tyler Perry. The character is a tough elderly black woman. Madea has appeared in several plays directed by, written by, and starring Tyler Perry, later appearing in films based on those plays.
2005 M02 25

El abogado Charles McCarter (Steve Harris) y Helen (Kimberly Elise), su amante esposa, parecen tenerlo todo: dinero, una bonita mansión… el sueño americano. Pero justo cuando Helen se prepara para celebrar su 18º aniversario de boda, su vida toma un giro inesperado: Charles la echa de casa y le pide el divorcio, dejándola por una mujer más joven. Desolada, Helen se va a vivir con su peculiar abuela Madea (Tyler Perry), una mujer mayor de mucho carácter y que siempre lleva un revolver en el bolso. Helen tratará de salir adelante, apoyada por Madea, y conocerá a Orlando (Shemar Moore) un hombre que quizá le haga volver a recuperar la ilusión… Primer film sobre el famoso personaje de la abuela Madea, creado por Tyler Perry según su propia obra de teatro, y cuyo éxito dio origen a varias y taquilleras secuelas.

2006 M02 24

Continuación de las aventuras de la matriarca sureña Madea y su numerosa familia que comenzó en el film "Diary of a Mad Black Woman". Una orden judicial acaba de obligarla a hacerse cargo de Nikki, un fugitivo rebelde; sus sobrinas, Lisa y Vanessa, tienen problemas con sus relaciones, y encima tiene que organizar su reunión familiar. (FILMAFFINITY)

2008 M03 21

A single mother living in inner city Chicago, Brenda has been struggling for years to make ends meet and keep her three kids off the street. When she's laid off with no warning, she starts losing hope for the first time - until a letter arrives announcing the death of a father she's never met. Desperate for any kind of help, Brenda takes her family to Georgia for the funeral, but nothing could have prepared her for the Browns, her father's fun-loving, crass Southern clan. In a small-town world full of long afternoons and country fairs, Brenda struggles to get to know the family she never knew existed…and finds a brand new romance that just might change her life.

2009 M02 16

After a high-speed car chase, Madea winds up behind bars because her quick temper gets the best of her. Meanwhile, Assistant District Attorney Josh Hardaway lands a case that's too personal to handle: that of a young prostitute and former drug addict named Candace. When Candace winds up in jail, Madea takes the young woman under her protective wing.

2009 M09 11

When Madea catches sixteen-year-old Jennifer and her two younger brothers looting her home, she decides to take matters into her own hands and delivers the young delinquents to the only relative they have: their aunt April. A heavy-drinking nightclub singer who lives off of Raymond, her married boyfriend, April wants nothing to do with the kids.

2011 M04 22

Madea, la contundente abuela que le hizo popular primero en teatro y luego en cine. En esta nueva entrega, la peculiar abuela Madea (Tyler Perry) entrará en acción cuando se entere de que su sobrina Shirley (Loretta Devine) ha recibido muy malas noticias acerca de su estado de salud. Madea quiere que la familia esté ahora más unida que nunca, para apoyar a Shirley en tan duro momento, sin embargo, lograr esto será difícil, pues los tres hijos de Shirley están muy ocupados con sus propios problemas: Tammy (Natalie Desselle) no es capaz de controlar a sus desobedientes hijos ni de arreglar su desastroso matrimonio, Kimberly (Shannon Kane) paga sus problemas y su mal humor con su marido, y Byron (Bow Wow), después de pasar dos años en la cárcel, tiene que evitar caer en la venta de drogas de nuevo. ¿Logrará Madea reunir a toda la familia, que todos solucionen sus propios problemas y que estén al lado de Shirley? Para conseguirlo contará con la ayuda de la alocada tía Bam (Cassi Davis).

2013 M12 13

Madea se decide a ayudar a un amigo pagándole un viaje para que su hija le haga una visita sorpresa por navidad, pero la mayor sorpresa es lo que van a encontrar cuando lleguen.

2016 M10 21

Nueva aventura de la abuela Madea. Esta vez terminará en medio de un caos al pasar un Halloween en el que tendrá que defenderse de asesinos, fantasmas, demonios y zombis mientras que vigila cómo se comportan los adolescentes.

2017 M10 20

Madea, Bam y Hattie se adentran en un campamento encantado donde tendrán que huir a toda prisa de los monstruos que aparecen.

2019 M03 1

Madea y su familia se reúnen para pasarla en grande, pero, en lugar de eso, terminan asistiendo a un funeral en el que, aunque todo parecía perfectamente organizado, cada situación se convierte en un auténtico desastre.

2022 M02 25

El polifacético magnate de los medios Tyler Perry recupera a su entrañable personaje Madea.
Bookmark this page and The Streamable will automatically update it if services change or more films are added.