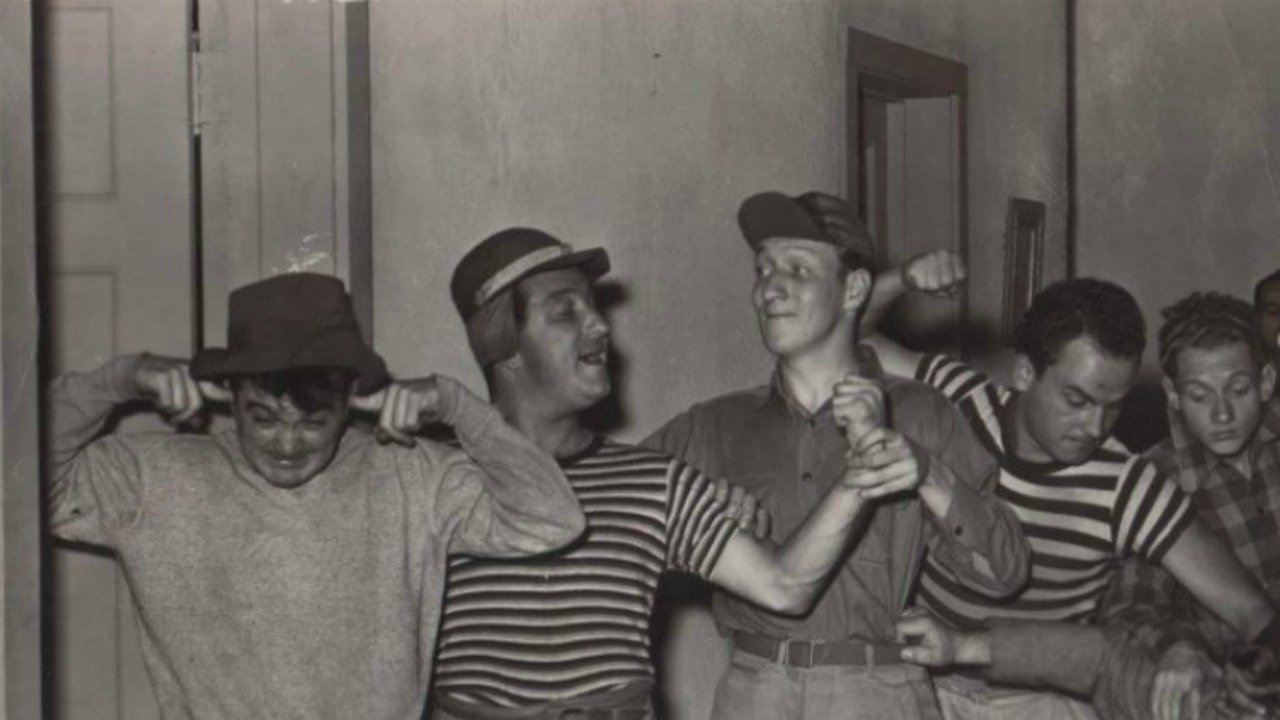 The Bowery Boys Movies Online Streaming Guide
films series The Bowery Boys
January 12, 1946

Slip gets fired from his job at a construction company for decking his boss. His sister, who got him a job at the company, is angry with him. Slip manages to get a job with the District Attorney serving warrants, as does Sach. Through his job, Slip finds out that all is not quite kosher at his old construction company, and that his sister may be in danger.

June 22, 1946

The Bowery Boys come to the rescue when a corrupt taxi company puts the squeeze on several independent drivers.

July 20, 1946

Slip (Leo Gorcey), Sach (Huntz Hall), Bobby (Bobby Jordan), Whitey (William Benedict) and Chuck (David Gorcey) unsuccessfully try to sell a dilapidated car to a street cleaner for a fabulous amount, so they can get enough money to save Louie's (Bernard Gorcey) Malt Shop. Sidewalk photographer Cathy Smith (Teala Loring) snaps a pictures of three bank robbers as they are fleeing a robbery but when the Bowery Boys and Cathy realize that Sach is also in the photograph, they break into the photo lab to destroy the negative, which might make the police think Sach was involved in the robbery.

August 24, 1946

The Bowery Boys—Slip, Sach, Bobby, Whitey & Chuck—start their own exterminating service, and get a job which takes them to a spooky old abandoned mansion in the middle of the night. Meeting up with pal Gabe and his new French bride, the boys are tormented by mad scientists who try to convince them the place is haunted and then kidnap Sach in order to place his brain inside a gorilla.

November 9, 1946

Sach is given a post-hypnotic suggestion that turns him into a championship prizefighter.

May 10, 1947

Sach just lost his job as an assistant to a private detective, but he wasn't paid. Slip goes with him down to the detective's office to demand payment, but finds the office empty. A woman enters the office and mistakes Slip for the detective and convinces him to take on a case to find her sister after offering a $50 retainer.

August 13, 1947

Slip and Sach are working for a local newspaper as a reporter and photographer, respectively. Slip wants to get the goods on a local gambling ring that is fixing sporting events, so he and Sach go undercover to expose the ring.

November 22, 1947

The Bowery Boys head west to clear Louie of an old murder charge that he had killed his gold-mine partner. Sach has the map to the gold mine painted on his back, and Blackjack McCoy has him kidnapped by Indian Joe. Gabe poses as a dangerous gunman, the Klondike Kid, while Slip is in charge of all the remaining loose ends.

March 7, 1948

Slip invites his cousin Jimmy to stay with his family after he is released from prison. However, Jimmy soon gets mixed up with an auto-theft ring.

June 27, 1948

A man wins $50,000 in a card game with gamblers, but is soon found dead and the money missing. Slip and Sach find the money near where the body was discovered, and soon find themselves the target of both the police and the gamblers.

October 10, 1948

Slip and Sach are working as cleaners in a high rise building. They enter an office to clean it when a messenger hears them use Slip's given name, Terrance Mahoney. The messenger has a letter for "Terrance Mahonoey, Esq." and mistakenly delivers it to Slip. The letter informs Slip that he has inherited a mansion in Long Island. The boys then make their way to the mansion and find that it is inhabited by diamond smugglers. The real owner of the house shows up and helps save the day and defeat the smugglers and gives the boys the house as a reward.

January 2, 1949

Slip and Sach are in the sidewalk star-gazing business when they see a murder committed in a room at the El Royale Hotel.

March 17, 1949

The boys are working at the local boxing arena where their friend, Jimmy Higgins, is boxing. During a crooked match Jimmy is killed. The boys seek out his older brother, Johnny, a former boxer who gave up the sport rather than go crooked, and help train him to get back in the ring. They try to get him a shot at the title, and when they do the same crooked gangsters that were behind Jimmy's death try to get Johnny to take a dive.

June 6, 1949

While working in a laundromat, the boys find a baby hidden among the linen. They soon find out that the baby, who is the heir to a fortune, has been abandoned by his mother so that her two evil aunts can't cheat her and the baby out of the inheritance. The boys determine to help the woman claim her baby's rightful inheritance from her aunts, who have hired gangsters to find and eliminate the girl, the baby and anyone who helps them.

September 25, 1949

Slip and the gang stray from newspaper work to detective work.

November 27, 1949

When Sach eats too much sugar, he goes into a trance whereby he's able to predict the future. Slip tries to make some money off of Sach by using him as a fortune teller in a carnival, until a mad scientist kidnaps Sach to use him in an intelligence-switching experiment with a monster.

February 12, 1950

While Louie is on vacation, the boys turn The Sweet Shop into an escort service, and soon find a group of beautiful girls as their first clients.

May 14, 1950

Slip and Sach's boss, David J. Thurston, has allegedly committed suicide. Slip finds a book of matches with the name of a local nightclub on his boss' desk and finds out from Gabe that a gambling casino is being run out of it. Slip comes to the conclusion that the club had something to do with his boss' death and sets out to find his murderer. The boys get jobs at the club and Louie poses as a rich cattlemen as they gather the information to convict the murderers.

August 13, 1950

Slip and the gang (Bowery Boys) take the rap for a robbery they did not commit.

October 29, 1950

The Bowery Boys (Bowery Boys) open a nightclub after Sach has his tonsils out and wakes up with a singing voice.

January 24, 1951

Slip, Sach and the gang (Bowery Boys) think an air-raid test is for real and join the Army.

April 29, 1951

A ghost helps the Bowery Boys capture a gang of crooks led by a mad doctor.

July 29, 1951

The Bowery Boys join the Navy to catch some crooks who are posing as sailors.

March 23, 1952

The Bowery Boys are enrolled in a fancy college by a pair of rich snobs who think they can turn the Boys into classy guys. Sach becomes a football star, and is kidnapped by gangsters to keep him out of the big game.

June 29, 1952

After Slip is drafted into the Marines, the rest of the gang volunteers so they can be with him. Sach discovers that the colonel knew his father and he is promoted. During a drill that he is putting the rest of the gang through, they find a soldier left for dead on the side of the road. Slip discovers a playing card next to the marine and traces it to Jolly Joe Johnson's gambling house. They suspect that the gambling house is cheating and set out to uncover the proof.

September 21, 1952

Sach discovers that he is heir to a farm in rural hillbilly country. He and the boys go to the farm to check it out, and find themselves mixed up with feuding hillbillies and a gang of bank robbers.

November 23, 1952

One of the Bowery Boys gains superhuman strength, and he cashes in by becoming a pro wrestler.

February 15, 1953

Those wacky Bowery Boys invent a superfast fuel, which will help them win an auto race (isn't this cheating?). However, the fuel is stolen by the bad guys just before the big race…

May 24, 1953

The Bowery Boys take on British crooks when one of them thinks he's inherited a title.

August 14, 1953

Slip and correspondence school pilot Sach, go to an air base to help a pal out…but find themselves in when they mistakenly sign enlistment forms. Can the Air Force turn these dodos into eagles? The guys may be airborne airheads, But just watch them find a way to ground a spy network that's infiltrated the base.

December 6, 1953

After being punched in the nose, Sach finds out that he has the ability to read minds. Slip and the gang start up a detective agency try to cash in on Sach's new powers.

March 7, 1954

Sach is the exact double of a famous French scientist who has invented a powerful rocket fuel. Enemy agents, mistaking Sach for the scientist, attempt to kidnap him and get the formula for the fuel.

June 6, 1954

Slip, Sach and the rest of the Bowery Boys enter a haunted house, where they engage in slapstick with a gorilla, a robot and a vampire

September 5, 1954

The boys get sent to Africa by a diamond firm when they find out that one of them can locate the stones by smell.

April 17, 1955

Sach receives news that he is the heir to the Terwilliger Debussy Jones fortune. Accompanied by his pal Slip, he arrives at the Jones mansion to review the legal papers needed for him to claim his new fortune. However, Sach and Slip discover that the rightful heir, the young Terwilliger III, is being cheated out his inheritance by the miscreant duo of Stuyvesant Jones and Clarissa. Sach and Slip, with the help of their fellow Bowery Boys, save the day and restore the heir's inheritance.

July 31, 1955

Slip and the gang (Bowery Boys) foil foes of the exiled, incognito king of Truania (Sig Ruman).

September 18, 1955

Slip and Sach (Bowery Boys) go to prison to help a reporter with a story.

December 25, 1955

The boys buy a uranium mine out west, but when they get there they find that it's pretty much worthless. However, the local badmen are distrustful of these new strangers, and when they mistakenly get the impression that the mine is loaded with uranium, they hatch a scheme to get rid of the boys and take over the mine.

September 16, 1956

An overambitious shutterbug almost gets his lights put out permanently when he decides to snap a picture of a mob boss.

February 24, 1957

When one of the Boys agrees to be hypnotized, he discovers he led a past life in the 1600s as a British tax collector.

June 2, 1957

Sach and the gang (Bowery Boys) find stashed cash in an old farmhouse apparently haunted.

October 6, 1957

Sach and the gang (Bowery Boys) fool Nazis and a sultan in North Africa.

December 22, 1957

The Bowery Boys: In order to be able to get the names of winning horses at the track, Sach agrees to sell his soul to the devil.

February 16, 1958

The Bowery Boys tangle with Scotland Yard, diamond smugglers and a gem-toting canine during an ocean cruise.
Bookmark this page and The Streamable will automatically update it if services change or more films are added.