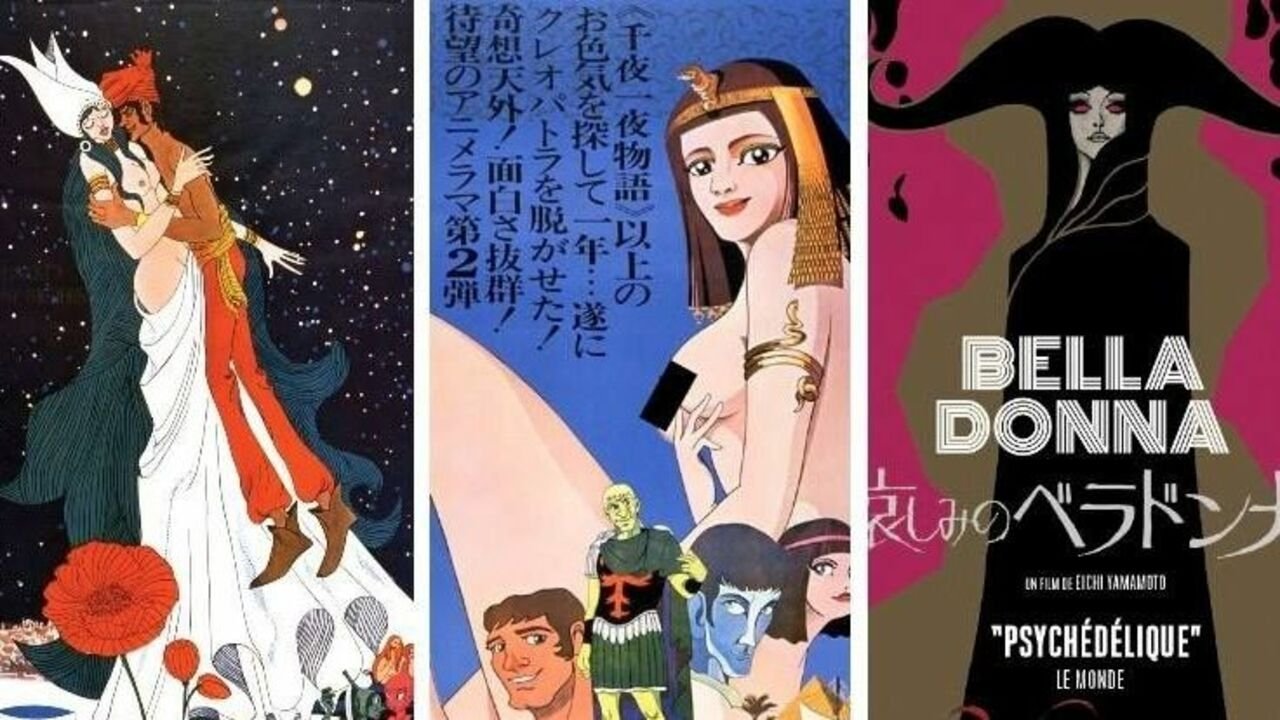 Animerama Online Streaming Guide
Trilogia de animação erótica, que por acaso inclui o primeiro filme de animação adulto da história japonesa.
Iniciado e produzido por Osamu TEZUKA, é dirigido por Eiichi YAMAMOTO.
14 de junho de 1969

Lindamente construído, 1001 Nights permanece fiel ao cenário exuberante e misterioso da história bem conhecida e antiga. Tezuka remodela a história em uma fantasia escapista, onde um trabalhador dos anos 60 é transportado de volta a uma era de detalhes árabes inteiramente fictícios. Aparentemente em desacordo consigo mesmo, 1001 Nights se desdobra consistentemente de uma forma que combina gráficos da Playboy, design de tapete árabe e pinturas japonesas tradicionais em pergaminho. Parece uma mistura estranha? Pode apostar e ao longo do caminho experimentamos algumas das grandes justaposições culturais que tornam Tezuka o estilo imprevisível que é.

30 de julho de 1970

Cleopatra situates itself in the same relationship to Hollywood as the Warhol/Morrisey films of the period. It corresponds to Joseph Mankiewicz's 1963 Cleopatra, starring Elizabeth Taylor and Richard Burton which Auder's cast watched and used as the starting point for scene by scene improvisation Auder drew his cast from Warhol's ensemble – including not only Viva and Louis Waldon, but also Taylor Mead, Ondine, Andrea Feldman, Gerard Melanga and others.

30 de junho de 1973

Um malvado senhor feudal viola uma mulher da aldeia na sua noite de núpcias. Com isso iniciasse a arruína da vida dela e do seu marido. Depois de ser banida de sua aldeia, a mulher faz um pacto com o diabo para ganhar habilidade mágica e se poder vingar.
Bookmark this page and The Streamable will automatically update it if services change or more films are added.