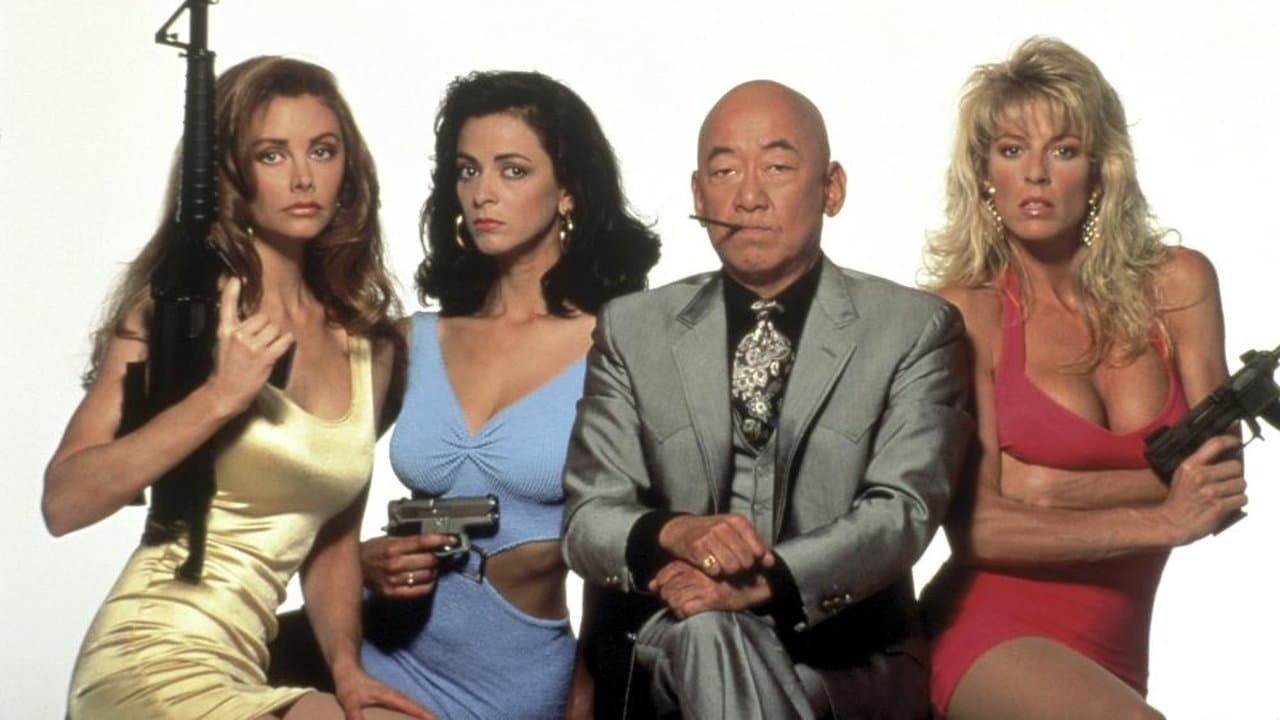 Bullets, Bombs, and Babes Online Streaming Guide
"Bullets, Bombs, and Babes" or "Bullets, Bombs, and Boobs" (BBB for short) is a series of B-movies produced between 1985 and 1998 by Andy Sidaris. All were action flicks featuring buxom gun-toting Playboy Playmates and Penthouse Pets with titles like Fit to Kill and Savage Beach. Most of Sidaris' "Triple B" series (later given the title L.E.T.H.A.L. Ladies) focused on the adventures of a team of secret agents and were mostly filmed in Hawaii. Several entries in the series were merely produced by him and were written and directed by others. Although the series featured recurring characters, continuity between films was not a priority and it was common for an actress who played a villain (and was killed off) in one film to re-appear in a subsequent film as a hero.
1985년 3월 1일

In this erotic spy tale private eye Cody Abilene teams up with the Contessa Luciana and policewoman Beverly McAfee to infiltrate a mansion and discover who is sending computer secrets to the Russians.

1987년 3월 1일

A Molokai-based civilian pilot and an undercover DEA agent intercept a delivery of diamonds intended for druglord Seth Romero. Seth, his henchmen, and other island undesirables launch a full-scale assault on the duo. If they're going to survive, they'll need the help of agent Rowdy Abilene and his partner.

1988년 2월 1일

Double agent Picasso Trigger is assassinated in Paris by double-crossing bad guy Miguel Ortiz. Then Ortiz begins eliminating agents of The Agency who were involved in his brother's death. The Agency (belatedly) springs into action to stop Ortiz' heinous activities. The usual gunplay, romance, and nifty toys with bombs ensue.

1990년 11월 9일

A South American gunrunner uses an island in Hawaii as his base of operations. A squad of beautiful government agents is sent to put him out of business.

1991년 6월 28일

Asian crime boss Kaneshiro captures two voluptuous undercover federal agents, Donna and Nicole. But instead of liquidating them, he gives the busty duo a head start in a deadly cat-and-mouse game involving six other assassin teams. The heated action takes them from Hawaii to Las Vegas and Louisiana.

1992년 9월 11일

국제 범죄단의 두목 마틴 케인(Kane: R.J. 무어 분)의 손에 옥으로 된 작은 부처상이 들어온다. '상상을 초월하는 부와 권력'을 자져다 줄 것이라며 자신에 차 있는 그를 예의 주시하는 미카(Mika: 미카 퀸타드 분)와 실크(Silk: 캐롤린 리우 분), 한편, 하와이의 몰로카이 섬에서는 매력적인 에바(Ava: 에바 카델 분)가 KSXY 라디오 방송을 위해 몰카이 호텔에 도착한다. 그 호텔과 라디오 방송국은 FBI의 비밀 주둔지. 방송 중에 에바는 미카의 연락을 받는다. 케인의 부하로 위장하고 있던 그녀가 옥 부처상을 훔쳐낸 뒤 도움을 요청한 것이다. 자신의 눈 앞에서 미카가 레이반에 의해 죽음을 당하는 것을 본 도나(Donna Hamilton: 도나 스페어 분)와 니콜(Nicole Justin: 로버타 바스퀘즈 분)은 즉각 루카스(Lucas: 토니 펙 분)에게 연락을 취한다. 몰로카이에 도착한 루카스는 상황 전재게 대해 불만을 토로한다. 그 옥부처상에 중국에서 도난당한 핵폭탄 제동장치가 들어있는데 그것을 가지고 있던 도나 마저 케인 일당에게 납치되어 행방을 알 수 없게 된 것. 안 봐도 비디오인 B급 소프트코어 액션물로 감독인 앤디 시다리스의 유별난 변태 취향이 곳곳에서 발견된다. 몸짱 남녀들의 벗은 모습을 원없이 감상하고 싶은 사람들에게 추천하는 액션물이다

1994년 6월 3일

Three Federal agents go in search of gold supposedly hidden by Quantrell during the Civil War after they are suspended by a corrupt official for excessive force during a drug raid. Meanwhile a drug lord hires a hit woman to kill the three for interfering with his operations.

1994년 10월 2일

Assassins led by Black Widow are out to kill Antonio Morales to prevent him from handing a computer chip over to IWAR headquarters. It's up to secret agents Chris Cannon, Mark Austin, and Samantha Maxx to stop them

1996년 2월 14일

The Legion to Ensure Total Harmony and Law (L.E.T.H.A.L.), is tracking a criminal mastermind known only as The Warrior. While investigating his combination diamond smuggling/art theft/porn production industry, the agents discover that he has cracked their secret database and has stolen the files on all of their agents. With the help of their martial arts intructor Fu, agents Tiger, Willow and Cobra take on the case while also taking every opportunity to remove their bikini tops.

1998년 1월 27일

A stolen computer disk contains the location of a hidden tresaure trove. It's up to the sexy ladies of LETHAL (Legion to Ensure Total Harmony and Law) to find the treasure before the bad guys do.
Bookmark this page and The Streamable will automatically update it if services change or more films are added.