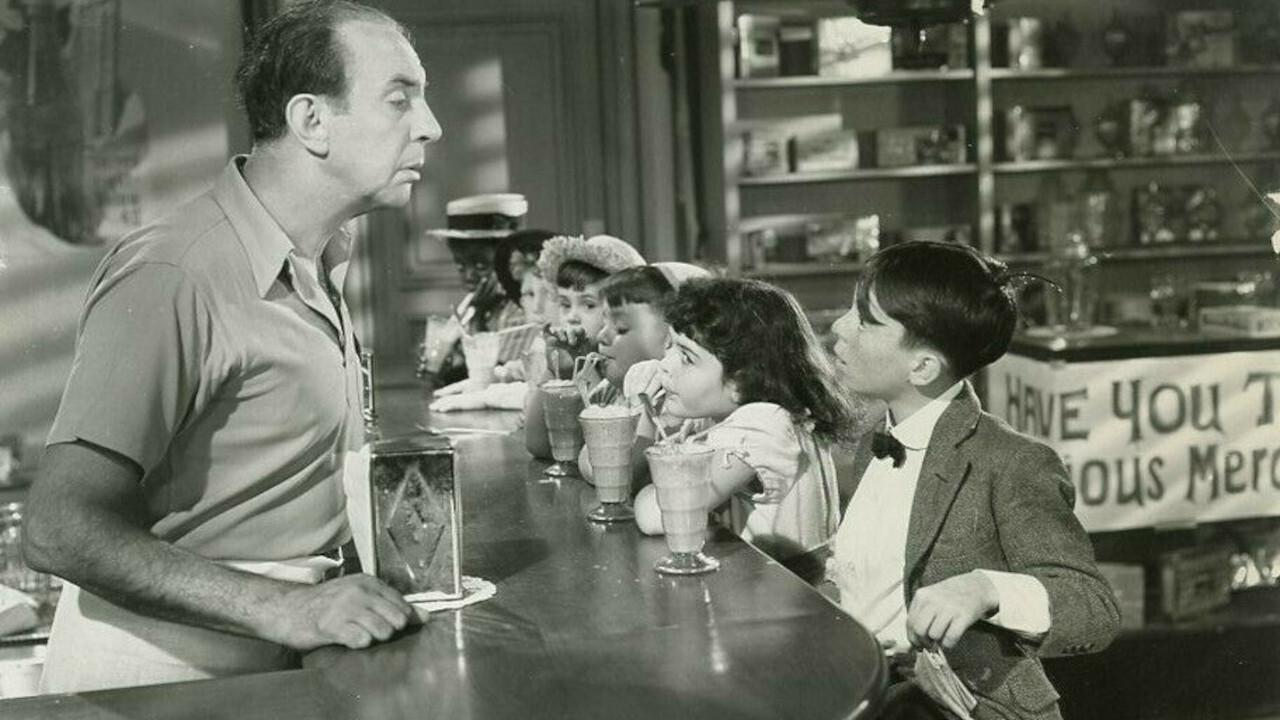 Our Gang: The MGM talkies Online Streaming Guide
These one-reel sound Our Gang shorts were produced and distributed by Metro-Goldwyn-Mayer.
6 de agosto de 1938

Alfalfa imagines himself as a western movie hero battling with Butch for Darla's heart.

27 de agosto de 1938

Alfalfa, Butch and Waldo compete for Mayor For A Day. Whoever becomes Mayor gets to take Darla to the Strawberry Festival.

17 de setiembre de 1938

Spanky and Alfalfa wants to do a show based on the "Aladdin's Lamp" story with Darla in the cast, but Darla doesn't want to participate.

15 de octubre de 1938

The kids go to the hospital to visit Darla, who's recovering from a tonsillectomy. Chaos soon ensues.

12 de noviembre de 1938

Darla pretends to like Butch, hoping to motivate Alfalfa into a better performance in the football game against Butch's team.

17 de diciembre de 1938

Butch has been playing practical jokes on the gang, but now they get their turn.

7 de enero de 1939

Alfalfa's weird aunt Penelope pays a visit. She's working on a murder mystery novel, but Alfalfa thinks she's trying to murder him. It's up to the Spanky and the gang to save him.

18 de febrero de 1939

Alfalfa "trades in" his whining baby brother for another baby—who turns out to be a midget criminal.

11 de marzo de 1939

While under a hypnotic spell, Alfalfa thinks he's one of the Three Musketeers and challenges Butch to a duel.

14 de abril de 1939

The Our Gang kids put on a circus in the barn to raise money to help Porky's family pay the rent and avoid getting evicted.

29 de abril de 1939

Alfalfa introduces his prissy, snooty cousin Wilbur to the gang. He instantly gets on everyone's bad side. Especially Alfalfa.

24 de junio de 1939

The Boys Scouts give a demonstration of their camping skills, but the Our Gang are excluded from participating because they are not yet old enough. Undeterred, the Our Gang head off on their own unsupervised camping adventure, with comically disastrous results.

1 de julio de 1939

The Gang owes 37 cents to Butch, so they try to raise money by rounding up stray dogs for the reward, but nearly get busted for dognapping.

22 de julio de 1939

The "Our Gang" kids enter the Kidmobile Race Classic and must rescue their dog from the pound.

8 de setiembre de 1939

An abandoned old show boat is moored in a lazy creek. The Our Gang put the old vessel back to use when they stage a show featuring "Darla's Dancin' Dandies" and a "meller dramer" entitled "Out in the Snow You Go." All is not smooth sailing however, as Butch seeks revenge for having been excluded from the cast.

20 de octubre de 1939

The "Our Gang" kids encourage a shy man to take a widow and her son to a picnic.

2 de diciembre de 1939

Alfalfa imagines himself being the star football player on a college team. After a big pep rally he ends up letting the team down when his poor grades cause him to be suspended from play.

20 de enero de 1940

Our Gang member Alfalfa comes face to face with his wealthy lookalike Cornelius.

9 de marzo de 1940

It is a premiere night at the Fox Carthay Circle theater, and the Our Gang show up to observe the festivities. But after the Gang causes a disruption, the police send them scurrying home. Not to worry—the Our Gang stage their own premiere night in the clubhouse barn.

30 de marzo de 1940

Mickey's parents are constantly quarreling because his mother serves hash every Monday night. The kids decide to put on a radio skit to try to get them to stop fighting.

27 de abril de 1940

Spanky and Alfalfa both try to impress the new girl at school, much to Darla's dismay.

25 de mayo de 1940

To impress Darla, Alfalfa drinks a concoction of Butch's "dynamite" brew.

7 de setiembre de 1940

Alfalfa and the gang decide to turn to a life of crime, but Spanky tries to trick them with a fake burglary.

5 de octubre de 1940

The gang offers to help their pal Waldo attract customers to his lemonade stand. Redecorating their clubhouse as a lavish nightclub, the kids stage an elaborate floor show, with Darla Hood as the star vocalist.

26 de octubre de 1940

The gang is going fishing and wants to get an early start, but they end up causing all sorts of problems for the passengers of a city bus.

23 de noviembre de 1940

Rich 'Old Man' Bill Morton is a hypochondriac. After bringing new sugar pills to Bill Morton's house, his physician, Doctor Malcolm Scott suggested to Bill Morton's wife that adopting a child might help cure Mister Morton of his delusions. After overhearing their conversation, Bill Morton quickly invited the "Our Gang" members, (as they were at the front come to the door, offering to work and pay for a broken window pane, that had just occurred) to a lunch, in order to sour his wife's thoughts of adopting any children. Then, the unexpected occurs as Alfalfa's two twin little brothers, Tisket and Tasket got to Bill Morton's medications' table, they ate up a majority of them, leading Bill Morton to call his physician, Malcolm Scott back to his house, immediately! When, Doctor Malcolm Scott return to Bill Morton's house, he laughs at what he hears and then tells Bill Morton they are worthless sugar pills, teaching a lesson to Bill Morton he is not sick at all.

15 de febrero de 1941

Mickey's mom is about to give birth, but he gets worried when he reads that every fourth child born is Chinese. Spanky and the gang then visit a Chinese friend and learn that kids are kids, no matter where they are from.

25 de febrero de 1941

Spanky and the Our Gang kids go to battle over pranks with a rival gang.

26 de abril de 1941

While playing baseball, Mickey runs into the street to catch a fly ball and is struck by a car. When the gang visit him in the hospital they are appalled to find the ward populated by many other children injured in automobile accidents. The Our Gang kids resolve to do something about the problem, and thus the "1-2-3-Go Safety Society" is born.

12 de julio de 1941

Spanky and the gang discover a demonstration of a "human-like" robot named Volto and are inspired to create a robot themselves to do their chores for them. Slicker Walburn convinces them they will need "invisible rays" to bring it to life which he just happens to have to sell to them. As they rush off to get their money, Slicker gets Boxcar Smith to wear the robot's outer body so when he "brings" the robot to life, it will be Boxcar bringing it to life. The gang unsuspectedly gets their robot to mow the lawn at Froggy's house, but with a signal from Slicker, Boxcar runs amok and mows down everything in his path. Froggy gets to explain what happened to his parents who bust up the fraud and get the miscreants to work with the gang to clean up the mess.

29 de setiembre de 1941

Inspired by his soldier brother, Spanky decides to organize a military unit among his friends, collecting odds and ends for the war effort.

24 de octubre de 1941

On Mickey's birthday, Miss Pipps, the school teacher, serves cake and ice cream during school hours. Sour old Mr. Pratt, head of the school board, stumbles on the festivities and has Miss Pipps fired. The Our Gang conspire to save her job by inviting all the parents to a special meeting. There the gang stage a melodrama, with Mr. Pratt portrayed as Simon Legree. The parents react by demoting Mr. Pratt to janitor. They appoint kindly Mr. Swanson, the current janitor, to head the school board. And of course they reinstate Miss Pipps as school teacher. Sometime later, in an act of forgiveness, Miss Pipps and the gang hold a birthday party for Pratt who is then humbled by the experience.

13 de diciembre de 1941

The Our Gang kids worry that Darla's new stepmother will be an evil stepmother like of fairy tale fame.

24 de enero de 1942

The gang prevails upon old-time minstrel impresario Walter Wills to help them stage a fund-raising musical show.

7 de marzo de 1942

The Our Gang kids are running their own newspaper and are determined to get the big scoop by learning the identity of the leader of a gang of bullies.

4 de abril de 1942

After Buckwheat tells the gang he's seen a big monkey, Spanky, Froggy and Mickey decide to teach him once and for all not to lie. What the gang doesn't know is that the monkey is real, and hilarity will ensue.

30 de mayo de 1942

Since Froggy was born on Leap Year Day, he's upset that he only gets a birthday party once every four years. So, the gang decide to have a surprise party for him.

10 de octubre de 1942

The Our Gang gets splashed by mud from a passing car and so using some cleaning fluid to get rid of the mud; they unknowingly created a bad odour among themselves.

28 de noviembre de 1942

Weighing themselves on a penny machine, the Our Gang kids receive a fortune card predicting that they will receive "unexpected riches." Acting upon this, the kids decide to dig for buried treasure, using a fraudulent map provided by one of their wise-guy acquaintances.

30 de enero de 1943

The kids are frustrated about the hardships they must face because of the war. So, the Our Gang kids put on a show to help them learn from Benjamin Franklin about being responsible citizens.

3 de abril de 1943

Our Gang member Janet Burston believes that her family is neglecting her, so she decides to run away from home. The other gang members try to help Janet get adopted (or "adapted") by a more agreeable family, choosing a kindly elderly couple (Sarah Padden and Harry C. Bradley) for the honor.

19 de junio de 1943

Our Gang kids Mickey, Buckwheat, Froggy and Happy spend a day working on the farm.

31 de julio de 1943

Mickey and Froggy are candidates running to be president of the Gang's club. When the vote continues to end in a tie, the club winds up split. Buckwheat then reminds everyone of the lessons learned from Abraham Lincoln when America was once divided.

23 de octubre de 1943

Froggy hatches a plan to get Mickey, Buckwheat, and himself sent home from school early so they can go fishing. When the plan backfires, the boys decide to play hooky the next day. At the fishing hole, there are plenty of lunkers just waiting for the bait, but the boys have some comic trouble. After Buckwheat finds a new way to catch fish, an old man gives them a life lesson. Will they keep fishing or change their ways?

1 de abril de 1944

When Froggy discovers the fabulous salaries paid to radio stars, he gets the idea that the gang should be in on the action. But success in radio requires a sponsor. They audition comedy skits at the dentist's office, and Shakespeare at the mortuary. Their efforts to snag a sponsor are without success until …

15 de abril de 1944

When Bigshot Jones gives his unnamed dog to the All-For-One Club, Buckwheat quickly named the canine, "Smallpox"—-inadvertently causing a city wide panic.
Bookmark this page and The Streamable will automatically update it if services change or more films are added.